Star Wars Rumors…I Really Don't Want to Do This
The Dark Herald
Oh well, no choice. We've got that stupid fake Star Wars holiday tomorrow.
The big rumor is that Gina Carano is in talks to return to the role of Cara Dune.
Frankly, I have some fairly major doubts about this one. While it's true that her episode of Running Wild is going to be streamed after all and that Cara Dune action figures are for sale again. Having Gina Carano return to LucasFilm would be a major walk-back for Kathleen Kennedy. No SJW and no woman who is as power-hungry as Kathleen Kennedy will take that kind of a loss from another woman.
The primary source of this rumor is Doomcock. While pretty much all of the leaks he posted for the Rise of Skywalker turned out to be accurate, he hasn't had as good of a track record since then. He tends to go with whatever he gets fed and it wouldn't shock me to discover that Disney is feeding him bullshit to damage his reputation.
Even if you do preface everything with "this must be treated as rumor" you are still reporting it and if it's wrong it damages your rep.
Hence, my own leeriness on this subject.
If Gina Carano is indeed in talks to return then Kathleen Kennedy has either been given a "window seat" or is so desperate to hang on to her job she doesn't care how weak this makes her look.
The only tea leaves to be read are in this year's official May the 4th Be With You poster.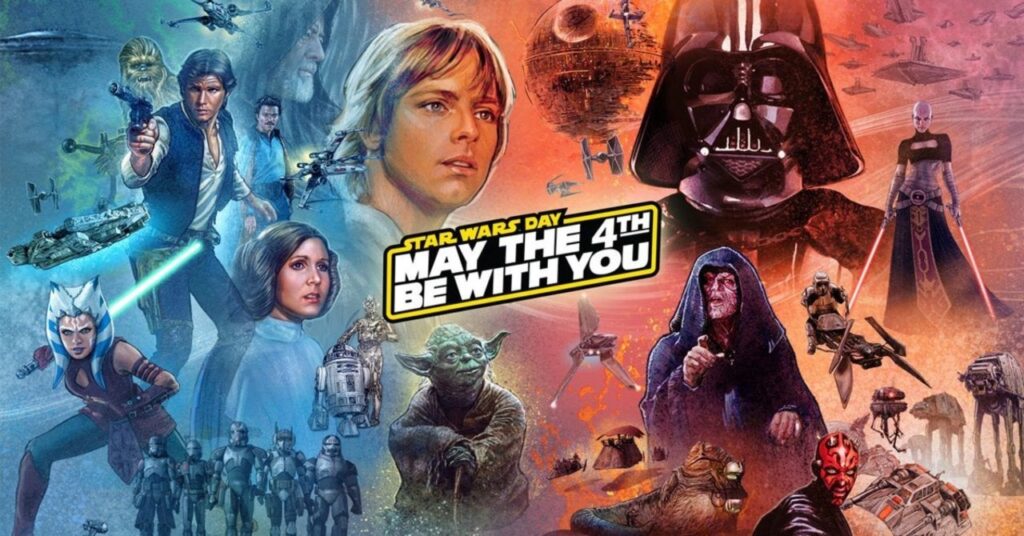 As you can see, Luke has been restored to the pantheon. I haven't seen the farm boy from Tatooine so prominently placed on any Star Wars merch since Disney bought LucasFilm.
The shill sites are reporting that "fans" are upset by the complete absence of the Reyloverse. By "fans" I'm pretty sure the shill sites mean themselves plus some Stan Twitter bots.
More interesting is a total lack of the second trilogy as well. No Anakin or Padme, and frankly I'll never miss them.  Not as bad as the third trilogy doesn't mean it was good.  The Mandalorian isn't there either, which doesn't bode well for that show's future. And most shocking of all, Baby Yoda is nowhere to be seen.
There are some Filoni characters in the poster.  The Bad Batch is displayed as well as a non-Sith who was killed off during the Clone Wars series, so she's probably that show's baddie.
Cara Dune isn't displayed either which is no surprise.  Although if Disney is trying to bring Carano back she has to be asking herself the Golden Question: How badly do they want me and how much can I make it cost them?
Okay, I'm done here.