Joss Ackland RIP
The Dark Herald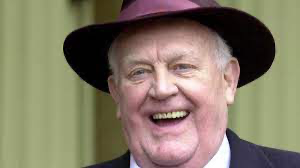 One of the all-time great character actors in genre films left us today.
From Henry VII to C.S. Lewis to Mustrum RidRidcully, from Bill and Ted to Lethal Weapon 2, Joss Ackland brought his Marianas Trench deep basso profundo voice to a vast array of films. Starting in 1949 until his retirement in 2014, Ackland racked up a stunning 206 credits as an actor.
Born Sidney Edmond Jocelyn Ackland in Kensington, 1928. Ackland began is career in the theater at the age of 17. He began doing TV work in 1949 and for the next 30 years played roles that were nearly uncredited, then in 1979 he landed the plumb role of Jerry Westerby in the Alec Guinness version of Tinker, Taylor, Solider, Spy. He began his climb although it was gradual, he finally hit the big time with his turn as a villainous South African Arjenn Rudd in Lethal Weapon 2. Suddenly Hollywood knew who he was and it was suddenly very much in demand.
He received a CBE in 2000.
"The family statement said: "With his distinctive voice and commanding presence, Ackland brought a unique intensity and gravitas to his role.
"He will be remembered as one of Britain's most talented and beloved actors."
Ackland's wife of 52 years Rosemary passed in 2002. Joss Ackland is survived by six of his seven children, 32 grandchildren, and 8 great-grandchildren. He was 95.