Ezra Miller – Cult Leader
The Dark Herald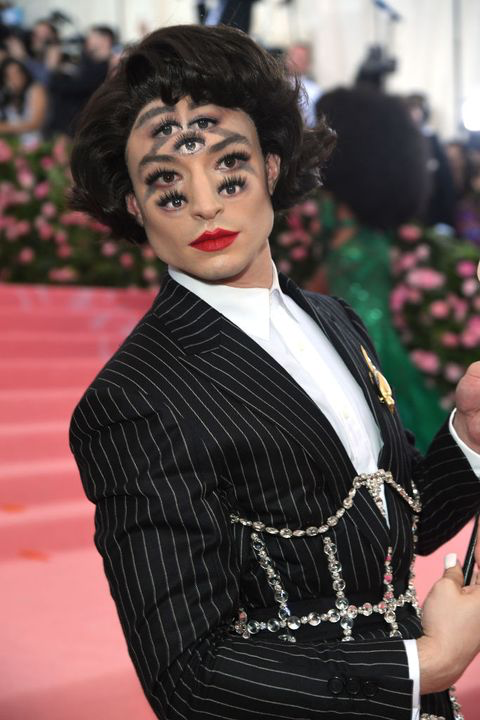 Running down an Ezra Miller story quite literally gives me a freaking headache because everyone uses his retarded non-binary pronouns.
Good trick though, if you are running a cult, which he appeared to be doing in Iceland.
When an individual uses "we" as a personal pronoun it invokes a collective identity to everyone around you, especially if you have to be deferential to him.
"In April 2020, Miller rented out parts of Iceland's Hótel Laugarbakki, where the actor took a young woman grappling with addiction at the time under their wing. "After that, Ezra basically said: 'My room is your room. This is now where you're going to stay.' And I was like, 'Cool.'"
Their relationship over the next six days was marked by abuse, the woman alleged. "At one moment they would look me in the eye and be like, 'I love you,' and be this really nice, beautiful person," she said. And in the next moment, she continued, they would "tell me that I was fucking disgusting."
"There was a lot of psychological abuse," said the woman, adding that Miller would scream at her over things like saying the wrong word in Spanish or her knowledge of yoga. "Ezra was like, 'You don't know anything about yoga!'" she recalled. "This hostile demon just took over."
The woman also said that Miller became fixated on her "breeding capabilities," per the report, and would talk to her womb and tell her that she needed to leave her life behind for a better future. She remembered thinking this was her ticket to Hollywood.
"Ezra was super manipulative. They kind of had us all under their finger," she said. "They were able to twist and pull everything that I thought I knew about the world."
"It was only six days, but it honestly felt way, way longer," she said. "I remember feeling, like, 'Wow, I don't know how I'm going to recover from this.'"
That perverted moron makes my brain hurt with HIS constant "they, them, their" ridiculous bullshit.
Anyway, Warner Brothers are sitting on something that is a lot worse than this. Something that will allegedly make Flashpoint unreleasable with him in it. The problem I'm having is that all of a sudden there is a flood of bad intel. The only thing that seems to be consistent is that whatever the hell happened, it happened in Iceland.
I hate being a gossip columnist.