Marvel's New Team of Trans Superheroes
The Dark Herald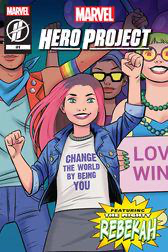 No, I didn't invent this. I swear.
More surprisingly, Daniel Kibblesmith had nothing to do with it, which I find kind of shocking. It's just that good.
No artwork yet but I can't wait to see it.
CBR so don't click on it.
"The story introduces readers to four new trans characters, all of whom are equipped with their own unique set of skills. The group includes Pity Girl/Nora (she/her), who has the ability to hypnotize people with sad stories; Aphelion/Reed (they/them), who has freezing powers; Good Arson/Rex Ridley (he/him), who can ignite objects with his mind; and Faceshopper/Soph (she/her), who can shapeshift into items she deems "cool."
Before long, the support group is interrupted when Spider-Man comes crashing through a wall followed by the Sinister Syndicate. The four heroes and D-Man quickly jump into action and apprehend the villains while Spider-Man takes a moment to recover and catch his breath."
My favorite is easily Pity Girl, the pronouns mean she was born with a dick. The hypnotizing people indicates that "she" is the type of trans who is an extreme homosexual and is desperate for attention. And straight guys won't sleep with "her," because "she" still has a dude's tackle box.
Good arson is a female to male. And by Good Arson I assume that means that "he" burns down ministers' houses.
Aphelion is actually a decent name for freezing-powered hero.  I have nothing to make fun of here.
Faceshopper on the other hand, I am guessing is a drag queen? Regardless, "her" power is up there with the Kibblesmith's creation Screentime, who could google anything because he had been exposed to "internet gas."
Enjoy the ride while it lasts Marvel. Because a few more launches like Lightyear and Budget Cut Bob Chapek is going to be getting out his red marker and looking for subsidiaries that aren't pulling their weight.
Okay, I'm done here.