Disney's Golden Dilemma
The Dark Herald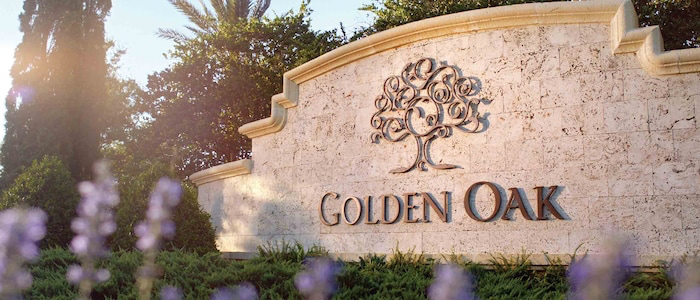 One of the richest neighborhoods in Orlando, isn't in Orlando (yet) it's in Walt Disney World. 
Golden Oak is a residential development inside the borders of Disney World.  The target market isn't really people who want to live in Disney 24/7/365. Basically, it's for Grandpa and Grandma Snowbird, who migrate south for the winter.  It's a way for rich geriatrics to be the grandkid's heroes.
The minimum price for a home, (when one is even available) is $5 million and goes as high as $12 million.  It has all the rich people amenities, a private clubhouse, private restaurants, and WDW Cast Members to take care of the needs of its well-to-do residents.
"Savor superb food and beverage experiences at Summerhouse. Whether dining or hosting your own special occasion, Cast Members delight in making Club members feel at home (yeah, sure). The Club dining experience is ever-changing to achieve the highest quality and continually satisfy the sophisticated tastes of Club members.
– Bolton's is the dining centerpiece of Summerhouse and the place to come together and enjoy fresh, modern fare in a casually elegant space. Club members can delight in traditional Summerhouse favorites, handcrafted pastas, artisanal pizzas and house-made charcuterie.
– Markham's has been re-imagined for memorable dining experiences scheduled for select dates throughout the year. Enjoy Markham's Moments—specially themed events, stories from the chefs and world-class culinary offerings.
– Tyler's Lounge, reserved for those 21 and over, is open on select dates throughout the year for special gatherings, beverage tastings and select events. Mingle with your neighbors in a cozy setting over handcrafted cocktails and curated tapas.
Whether you're inclined to pick up the pace on the treadmill or lift a frosty refreshment poolside, Summerhouse offers a choice of fine amenities to suit your leisure-time interests.
Highlights include:

– Pool Area: Just outside of Summerhouse is a lovely swimming pool and patio. At night, the heated pool is set aglow with ambient lighting, setting the mood for special gatherings.
– Fitness: The 24-hour fitness facility is state of the art, with a private training room and studio, along with a plush outdoor exercise lawn.
– Family Room: The Summerhouse family room is a great place for kids and teens to hang out and enjoy their time together—whether it's playing games, watching movies or participating in special events."
There is, naturally, a private golf course, and exclusive events for residents.  
Then there is all of the fun stuff at the parks that the plebians can only dream of.  Free (for values of free) admission to all of the parks and water parks.  Private drop off and pick up at all the park entrances.  Automatic Lightning Lane (you are too important to wait in lines after all).  Private VIP tours of everything, the utilidors, behind the scenes at the rides, even tour the Cinderella Suite in the Castle which is little more than a rumor to the grotty little peasants.  And you are bumped to the head of the line on Club 33 memberships (also little more than a dream to the average pixieduster).
In short, there is nothing Disney World-related you can't do if you live in Golden Oak.
Darklings: Can you vote in local elections?
Dark Herald: Oh, hell no!
Which is going to be kind of a problem for Disney as it goes to war with Florida after the recent law dissolving the Reedy Creek Improvement District. 
I have been hearing a lot of commentary from the press and people who get their information on the press (and think that makes them experts too) about how Florida can't possibly win this one and how it will AUTOMATICALLY bankrupt the counties Disney World inhabits (guys, they can TAX Disney World now. Including back-taxes).  
Try to keep in mind the press hates any kind of right-wing victory and will reflexively lie.  But the truth is nobody knows how any of this is going to shake out. the whole situation of a private corporation having the powers of municipal authority and then having those powers stripped away is quite unprecedented.  There are no legal decisions to fall back on.
Regardless, Disney is going to fight this one tooth and nail. They haven't filed anything yet, but I know how Disney's lawyers have spent the weekend. A lot of their challenge to the law will have to be built on the claim that Disney fulfilled its end of the original 1967.   
It did indeed create two cities; Bay Lake and Lake Buena Vista. They have mayors, city councils, and officers.
City of Lake Buena Vista
2022 City Council:
Renee Raper: Mayor
Andrea Fay: Council Member/Mayor Pro Tem
Tom Nedorost: Council Member
Angie Sola: Council Member
Gretchen Sterner: Council Member
John Classe: City Manager
Kerry Satterwhite: Assistant City Manager
Susan Higginbotham: City Auditor
Jerry Wooldridge: Building Official
Richard LePere: Fire Chief
Mike Crikis: Pollution Control Officer
Tina Graham: Clerk
The City of Lake Buena Vista City Council meets at:
Reedy Creek Improvement District Administration Building
1900 Hotel Plaza Boulevard
Lake Buena Vista, FL 32830
1st Floor Board Room
City of Bay Lake
Todd Watzel: Mayor
Wendy Duncan: Council Member/Mayor Pro Tem
Mark Krause: Council Member
Jessie Mack Burns: Council Member
Joel Edwards: Council Member
Mike Crikis: City Manager/Pollution Control Officer
Jerry Wooldridge: Assistant City Manager/Building Official
Susan Higginbotham: City Auditor
Richard LePere: Fire Chief
Tina Graham: Clerk
The City of Bay Lake City Council meets at:
Reedy Creek Improvement District Administration Building
1900 Hotel Plaza Boulevard
Lake Buena Vista, FL 32830
1 st Floor Boardroom
Notice anything odd?
Well for one, isn't it strange that the City of Bay Lake would always meet with their City Council in a different city? And for another, how is it that two different cities would hold their City Council meetings in the same building, in the same room, on the same day, thirty minutes apart? Is there never any public input from residents in these meetings? Oh… and look at that… both "cities" have the same clerk: Tina Graham.
But it gets even more weird. Would you think it might be a bit shady if the District Administrator for all of Reedy Creek Improvement District is also the City Manager for Lake Buena Vista? That's pretty nifty for John Classe, eh?"
Here is a picture of the "City" of Lake Buena Vista.
Only the finest in doublewides at WDW. All twenty of these "residents" are carefully selected by Disney.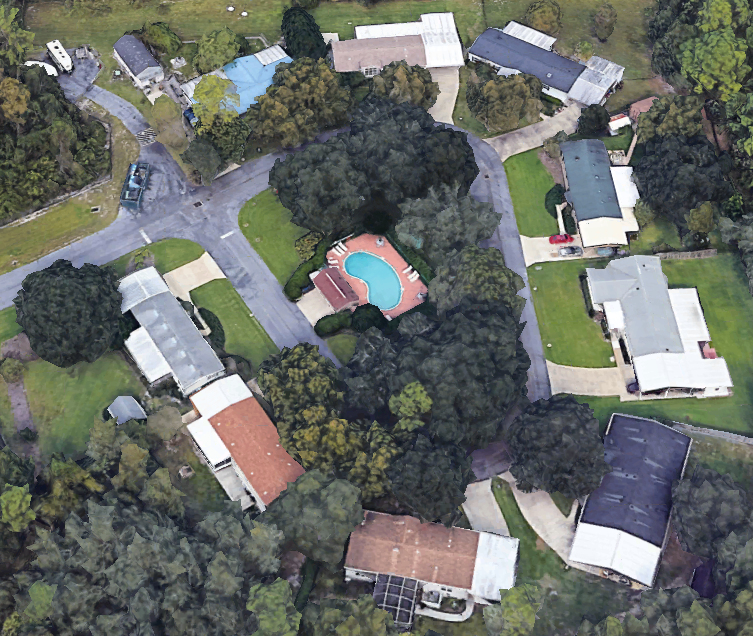 These cities are clearly and obviously a barely observed legal fiction to keep Disney within the limits of the original Reedy Creek Improvement District legislation. With no settled law, Intent will matter a lot in this case.  There is no question that Walt Disney had every intention of building his city of Tomorrow.  But he died in 1966.  Reedy Creek was adopted in 1967 and Roy Disney never had any intention of trying to build a city.
The closest Disney ever came to fulfilling its end of the agreement was the construction of the EPCOT in 1982.  It was scary as hell for Disney but they didn't have a choice.  They had to build something big called EPCOT or they were going to void Reedy Creek.
If Reedy Creek was worth billions to Disney back when they didn't have billions to spend, what is worth now?
And speaking of billions, this brings us back to the problem of Golden Oak. Do you want to know which of these two cities that development is located in?
Neither.
Golden Oak is located in just about the only part of Disney World that isn't the territory of those two "cities."
The only residents of Disney World that don't work for Disney have no right to vote in local affairs.
That is going to look GREAT in court.