The Disney Civil War
The Dark Herald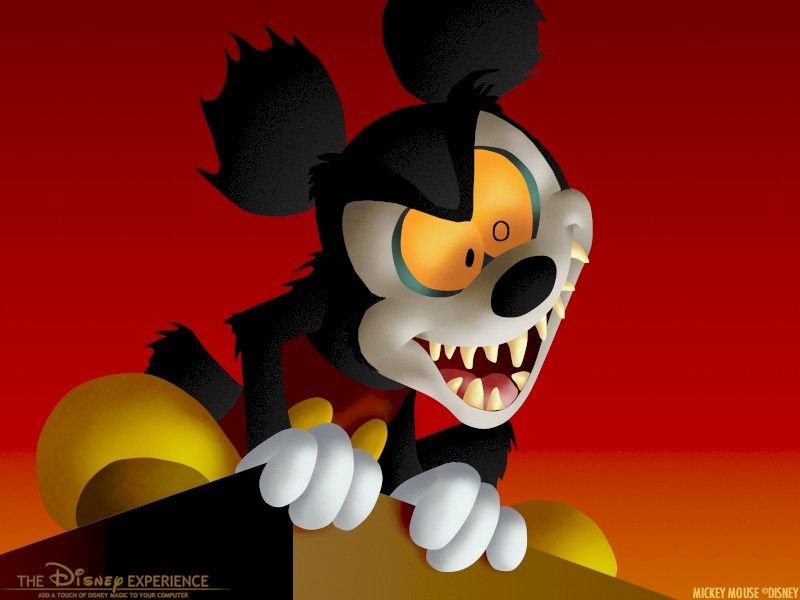 How long before Disney World gets rid of gendered restrooms?
I now live in a world where that is a perfectly legitimate question. And you will note that I asked, 'how long,' not 'if.' I think it really is just a matter of time. Disney parks are now a place where Sir, Mam, Boy, and Girl are now offensive terms. How long can the people that banished these crimespeak words as unbearably regressive, be able to tolerate the existence of restrooms explicitly marked 'men' and 'women?'
Little girls are absolutely NOT to be called 'Princess' anymore. Everyone is to be addressed as 'Friend.' The first time a castmember calls you, 'Friend,' it's fine. The one-hundredth time a smiling stranger says it, you have become convinced that when the clock on Main Street USA strikes five o'clock everyone will scream, "FESTIVAL! FESTIVAL!" And start beating each other to death.
This is a cult.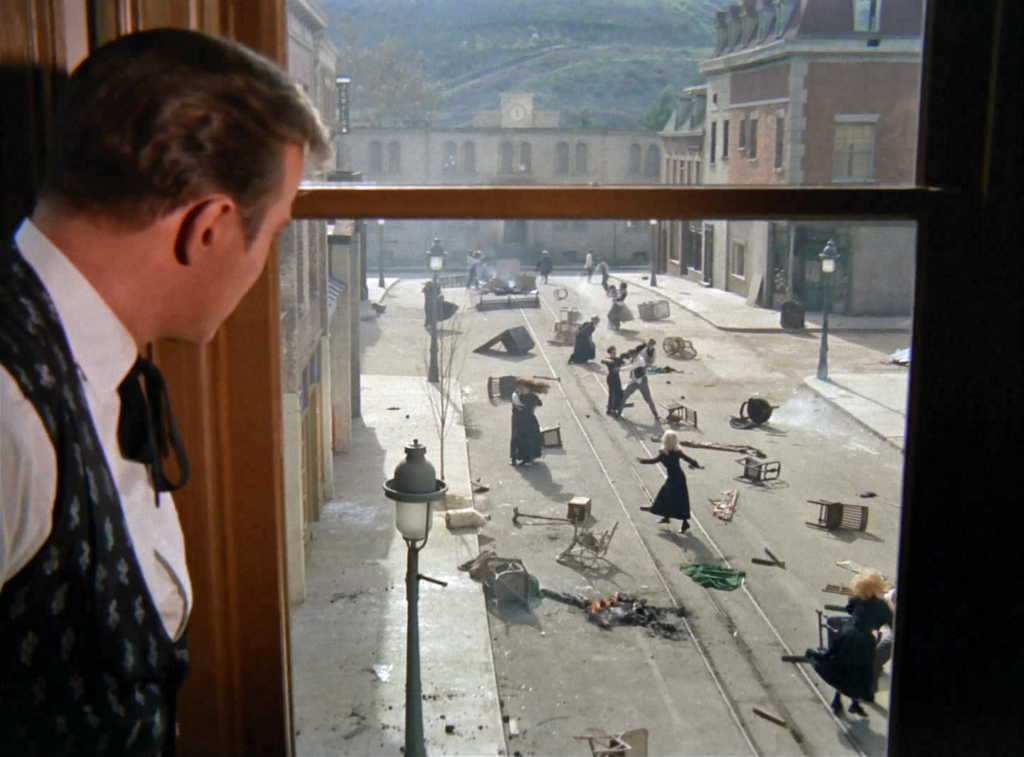 Admittedly, there is more than one side to this thing at Disney. The Reimagine Tomorrow teleconference was clearly something that was never meant to get out into the wild. Somebody leaked it and I'm sure there is currently a witch hunt going on to find out who.
But I honestly don't think it matters all that much. Here is an excerpt of the open letter some anonymous employees posted.
"However, over the last few years, one group of cast members has become invisible within the company. The Walt Disney Company has come to be an increasingly uncomfortable place to work for those of us whose political and religious views are not explicitly progressive. We watch quietly as our beliefs come under attack from our own employer, and we frequently see those who share our opinions condemned as villains by our own leadership.

The company's evolving response to the so-called "Don't Say Gay" legislation in Florida has left many of us wondering what place we have in a company actively promoting a political agenda so far removed from our own. TWDC leadership frequently communicates its commitment to creating an inclusive workplace where cast members feel comfortable sharing their perspectives and being their authentic selves at work. That is not our workplace experience.

Over the last few weeks, we have watched as our leadership has expressed their condemnation for laws and policies we support. We have watched as our colleagues, convinced that no one in the company could possibly disagree with them, grow increasingly aggressive in their demands. They insist that TWDC take a strong stance on not only this issue but other legislation and openly advocate for the punishment of employees who disagree with them.

An internal poll within the company went out a few months ago asking us if we felt accepted in the company. Many of us didn't complete it because the nature of the questions made us worry that the results of the poll could be used to target us for quietly holding a position that runs against the progressive orthodoxy that Disney seems to promote. TWDC has fostered an environment of fear that any employee who does not toe the line will be exposed and dismissed.
Much has been made of our internal efforts to Reimagine Tomorrow, but as much as diversity and inclusion are promoted, the tomorrow being reimagined doesn't seem to have much room for religious or political conservatives within the company. Left-leaning cast members are free to promote their agenda and organize on company time using company resources. They call their fellow employees "bigots" and pressure TWDC to use corporate influence to further their left-wing legislative goals.

Meanwhile, those of us who don't align with this vision keep our heads down and do our work without bringing our personal beliefs into the workplace. We've done this without complaint because we don't want to rock the boat, but the boat is being rocked, and our leadership seems compelled to reward those who are rocking it."
These "conservatives" aren't active combatants in the culture war. These are a completely defeated people who are begging their perverted overlords on their hands and knees for tolerance of their continued existence.
They beg in vain.
Bob Chapek's outright surrender to the activist left at Disney couldn't make that more plain. And this is despite the fact that the potential damage to Disney World could be horrendous if the Florida GOP gets mad enough at Disney.
Disney World is the company's golden goose. The movies don't make anywhere near the amount of money that WDW does. Sure the $20 Billion Dragon that Iger was chasing was supposed to be Disney Plus but despite the predictions of doom for Netflix by everyone (the Dark Herald tugs uncomfortably at this collar), it's 2022 and Netflix has no competition at all.
Original Streaming Series
Position, Platform, Title
| | | | |
| --- | --- | --- | --- |
| 1 | Netflix | Inventing Anna. | |
| 2 | Netflix | Vikings: Valhalla | |
| 3 | Netflix | Worst Roommate Ever | |
| 4 | Netflix | Love Is Blind | |
| 5 | Netflix | Pieces Of Her | |
| 6 | Amazon | The Marvelous Mrs. Maisel | |
| 7 | Netflix | Ozark | |
| 8 | Amazon | Reacher | |
| 9 | Netflix | Sweet Magnolias | |
| 10 | Hulu | The Dropout (2022) | |
The only OG programming that made the list for Disney was a last-place Hulu mini-series. You have to dig into secondhand TV shows before Disney Plus makes an appearance.
| | | | |
| --- | --- | --- | --- |
| 1 | Netflix | NCIS | |
| 2 | Netflix | Criminal Minds | |
| 3 | Netflix | Cocomelon | |
| 4 | Netflix | Grey's Anatomy | |
| 5 | Netflix | Seinfeld | |
| 6 | Netflix | Supernatural | |
| 7 | Netflix | Gilmore Girls | |
| 8 | Disney+ | Bluey | |
| 9 | Netflix | New Girl | |
| 10 | Netflix | Downton Abbey | |
Bluey is an Australian preschool show that is probably the most traditional family program on Disney +. I'm sure the Reimagine Tomorrow crowd hates it.
I will grant that Disney did slightly better with movies.
| | | | |
| --- | --- | --- | --- |
| 1 | Disney+ | Encanto | |
| 2 | Netflix | A Madea Homecoming | |
| 3 | Disney+ | Free Guy | |
| 4 | Netflix | Shrek 2 | |
| 5 | Netflix | The Weekend Away | |
| 6 | Netflix | Just Like Heaven (2005) | |
| 7 | Disney+ | West Side Story (2021) | |
| 8 | Netflix | Against The Ice | |
| 9 | Netflix | Shrek | |
| 10 | Netflix | Battleship (2012) | |
Disney had three movies in the top ten. HOWEVER, two of them started life at FOX before the buyout. And Encanto is at the top largely because one of its songs turned into an out-of-the-blue novelty hit. Everybody at Disney was expecting Let It Go to hit the top of the charts. Nobody was talking about Bruno because they didn't think there was a reason to.
And take a look at the age of those Netflix movies. A bigger worry for PedoMouse has to be the fact that none of their classic films are on that list. Not one. And the "treasures from the Disney Vault" were supposed to be the tentpoles for Disney+.
Marvel has had a string of failures last year. Star Wars may as well not exist. And Disney+'s only purpose is to make HBOmax look bad by comparison.
Consequently, Walt Disney World remains the company's primary revenue generator and that won't last if Florida gets tired of Disney trying to tell what is now a Red state what's what. Disney used to take special care of Florida residents, they got perks and discounts no one else got. But whether out of short-sided greed or moronic resentment of Florida daring to turn Red, those perks have largely vanished.
The Woklings that infested Disney under the Iger regime have convinced themselves that Disney is too big to fail, and that Florida will have to knuckle under to them. As I predicted, the Florida GOP is starting to talk about pulling Disney World's legal status as a legal governing body. A bigger problem for Disney is that there is now opposition at a federal level to extending copyright past its current limit.
The current civil war isn't one within Disney. It's shaping up to be a war between Disney and Florida.