EXCLUSIVE: Arkhaven Blog Interview with Star Wars Celebrity; Geode
The Dark Herald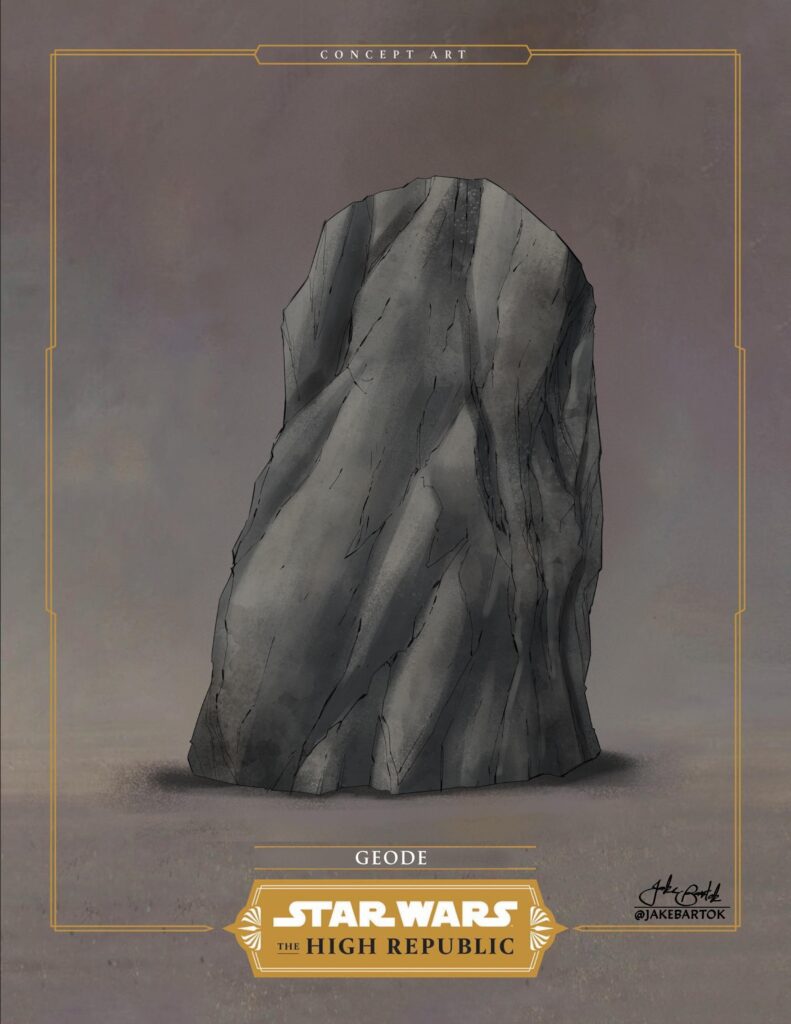 We are deeply honored to have a Hollywood legend with us today. Geode the Rock.
TDH: Geode, thank you for taking time out your very busy schedule for us today. I can't say how honored we are to have you here.
Let's get right into it.
Your joining Star Wars: The High Republic has been likened to Sir Alec Guinness being cast in the original Star Wars film. You bring that much gravitas to any project you are a part of. Your career in film, theater, books, TV, (and let's not forget comics) spans decades. In fact, you pioneered performance art and have been appearing daily on Salisbury Plain in England for the past three thousand years.
But it was in Westerns that you really found your footing in American films, starting with Human Stuff in 1920, directed by Reeves Eason and starring Harry Carey. If I am correct, please say nothing at all.
Geode:
TDH: Thank you, I'll make that correction in my notes. You began with the old Republic Pictures studio but soon moved to Paramount. Do you have anything to say in reply to the long-standing charges of nepotism regarding the Paramount logo.
Geode:
TDH: Quite right, it isn't worth answering. I only mentioned it at all because it would have looked odd if I didn't. As if I was sweeping it under the carpet.
Geode:
TDH: Very gracious of you. While you initially made your mark in Westerns, that didn't stop you from being in such diverse things as period dramas, comedies, and romances. You worked with the biggest names of the time. However, a lot of your contemporaries from the silent era couldn't make the change to the "talkies" Did you find the transition difficult?
Geode:
TDH: Ha! Ha! Ha! (*gasp…wheez…gasp*) Ha! Ha! Ha! (*wipes eyes*) Dear Readers, if only you could see the Rudolf Valentino mugging Geode is doing for me! Anyway, while you were able to shift effortlessly from one genre to the next, it was in science fiction that you would find your most devoted fans. Your first picture in the genre was the 1940 version of 1,000,000 BC starring Victor Mature, followed by Missile to the Moon in…
Geode:
TDH: I was about to bring that up. You were prominently featured in the Gorn episode of the original Star Trek. Science Fiction was something of a renaissance for you during this time. Over next decades you appeared in things such features as Death Sport, Metal Storm: The Destruction of Jared Syn and Planet of the Dinosaurs.
Geode:
TDH: Really? You actually knew dinosaurs personally and they wouldn't pay attention to your notes?
Geode:
TDH: Yeah, that's Corman for you. You returned to Star Trek for the 2009 movie and again for the sequel, Star Trek into Darkness. But now you are switching franchises and will be appearing in Star Wars: The High Republic. The Trekkies will not forgive you for that. Any comments?
Geode:
TDH: Yes, best not to say anything.
But honestly, I don't think you've joined Star Wars at the best time. It's been seriously brand damaged.
This has to be of some concern to you due to the disasters that Kathleen Kennedy has inflicted on the franchise.  I mean, Disney bought Star Wars in the first place to appeal to the boys' market and what does she do?  Shut down every project that would have appealed to boys and makes a movie about a brave independent whaman who is instantly the bestest at everything evah without trying. 
Geode:
TDH: And then there was the recent firing of Gina Carano. The ludicrous amount of corporate infighting that brought that about is now a semi-public embarrassment for Disney at a time when it needs to look focused and strong. I know that a paycheck is a paycheck but you have signed on with the faction that is actively trying to destroy the entire Star Wars franchise in the name of Wokeness. Disney appears to be unwilling and uninterested in trying to protect the brand they paid four billion dollars for. The opportunity costs alone that Disney has missed because of this failed purchase are estimated at $16 billion. In truth sir, is it not likely that Disney is now so dysfunctional they will likely declare bankruptcy sometime in the next decade?
Geode:
TDH: Thank you for forthrightness, sir. That couldn't have been an easy thing to say.
One last question and I'll let you go. Given the kind of NDAs you had to have signed with Disney are you not concerned about any blowback from the company given some of the things you've said today?
Geode: Fuck yes, I'm scared! These are Disney lawyers we're talking about.