Six Flags Over Orlando
The Dark Herald
That is pretty much what Disney World is going to be.
Budget Cut Bob Cheapek is in the process of destroying the parks in the name of being chintzy.
Lets take a quick look at the strategic picture so we can better understand how badly Chapek is getting it wrong.
First and foremost; the resorts are Disney World's real money volcano, not the parks.  Sure, there is some money to be made off of a day-tripper that lives in Jackson, FL. But it doesn't compare to the amount of money the resorts rake in. The highest-end resorts charge better than a thousand dollars a night for their rooms and that doesn't include all the overpriced meals the resort guests are going to get.
Second; one of the biggest things Disney Parks tries to keep a sharp eye on is crowd flow. They don't want their money-paying mob bunched up in one spot. That makes for a very inefficient money sheering process. People just can't spend a lot of money if they are stuck in traffic. 
The most powerful tool for getting people to move around Disney Parks is the Disney Parks smartphone app. If the app tells you there is an hour-long wait at Space Mountain but only a fifteen-minute wait at the Haunted Mansion. You are much more likely to saunter over to the Ghosties and Ghoulies. And hopefully, buy Haunted Mansion china in the gift shop. 
But that app also tells Disney parks everything about crowd flow. And I do mean everything. It is an ideal situation for a data scientist because the sample is so confined. Managing and grooming crowd flow has become an obsession for Disney Parks, once it became clear that the people who spent the most money were the ones staying on park property.
The first step was instituting overnight parking fees for cars, (up to $144 for a six night stay). This was to discourage guests from brining cars (put a HUGE pin in that one). The next step was creating a transit system for the moderate resorts.
The big luxury resorts (the Monorail resorts and the Crescent Lake resorts), had plenty of controlled transit available already. The Crescent Lake Friendships…
…can ferry you to EPCOT or Hollywood Studios. And the Monorail will shuffle between the Magic Kingdom and EPCOT.
However, if you were at the Moderate Resorts, you could take one of the "Minnie Vans" (Disney Uber basically), for a round trip fee of forty bucks (note they are currently suspended but are due to come back). But since you are at a Moderate Resort, let's face facts you are taking the park buses everywhere.
The buses are okay-ish so far as controlling crowd flow, but they are nowhere near as good as the Monorails.
Beloved Readers: So why not build Monorails for the Moderates? Sure, it's expensive upfront but the running costs must seem cheap enough. It's just electricity, right?
No, the running costs are obscene. Disney World is built on a swamp. Each monorail pylon has to have its own pumping station. The complex financial math of running the Monorails boils down to the fact that the resorts the Monorails run through are the most expensive and those guests spend a shit-ton of money. The Monorail Resort guests are Disney Park's royalty.
It just isn't viable to build a Monorail for the Moderate Resorts given the amount of money the guests at the moderates are spending.
Let's put this in Vegas terms. The Monorail Resorts are the Whales that you comp with a free penthouse suite and a $10,000 a night call girl. The Moderate Resorts are the Mom-and-Pop players you comp with a steak dinner and tickets to the Criss Angel Mind Freak magic show.
But right before Covid hit a reasonably inexpensive transportation alternative was opened on the Moderates. The Skyliner. This is cheaper to run than the buses, and it provides a throwback to some defunct rides that were torn out years ago.
Below is the route that it runs on and as you can see it's all about…
…hustling the Moderate guests between EPCOT and Hollywood Studios on a very regular, and quite measurable basis.
Also, there is no way in hell you would catch me on one. Bob Chapek decided (and he had to have been the guy with the final say on this) to save money by not installing air conditioning in the gondolas. Orlando is usually damn hot and in the summer months, it gets all the way up to fucking hot. I can't look at one of these things without thinking, "Oh no! Not The BOX!"
While they are well ventilated and chug along at a good enough clip to create a cross breeze. The problem is what happens when they stop moving?
 During a crash for instance. The gondolas stop moving and the passengers have to be evacuated.  This takes a lot of time and sooner or later some elderly parkgoer is going to die from a heat stroke in the hot Florida sun because he baked to death in The Box.
How often do they crash? If you subtract the months that parks were closed from their operations time, then the Skyliner has had three crashes in 12 months.
The Disney Skyliner had its third crash a week ago but this one wasn't too bad. And it says so much about the Skyliner that that was everyone's reaction. "Yeah, the Skyliner had another crash but wasn't too bad this time."
If you are thinking, hell, I'd just take the buses.  Then, Ha! Ha! Ha! Budget-Cut Bob has beaten you to the punch. All bus services between the Moderates, Hollywood Studios, and Epcot have been eliminated.  You have to throw the dice and ride the Skyliner.
This gives you a pretty big reason to not stay at the Moderate Resorts.
But Chapek has done one better, he's giving guests a great excuse not to stay at the parks at all.
Come January 1st, the Magical Express will be retired from service with no replacement being offered.  For those of you who aren't familiar with it, the Magical Express is a bus service works like this.  If you are staying at a Disney World resort. Then when you arrive at your departing airport, you put special tags on your luggage.  Then you drop off your luggage like you would for any other flight BUT the next time you see your luggage it will be in your resort room.  You don't have to hassle with finding it.  When you arrive in Orlando you just find the Disney World Magical Express terminal, put on your Magic Band, (Magic Bands are being replaced with a cell phone app) touch the MB reader, it glows green and suddenly Disney Parks services wrap themselves around you while you are still at the airport.  You are ushered onto a bus and a video of Walt Disney plays welcoming you to the happiest place on Earth.  You are dropped off at your home resort to be reunited with your beloved luggage assuming the airline didn't lose it.
Chapek is discontinuing this service as a cost-saving measure.  The kind of short-sided cost-saving measure that costs a company major bucks.  If you can't get on the Magical Express then you most likely going to rent a car.  Once you rent a car, you have a car.  You no longer have that big of a reason to stay at a Disney Resort, in fact, you have plenty of good reasons not to.  If you stay at the Waldorf Astoria here is what you are getting for the same price as a Monorail Resort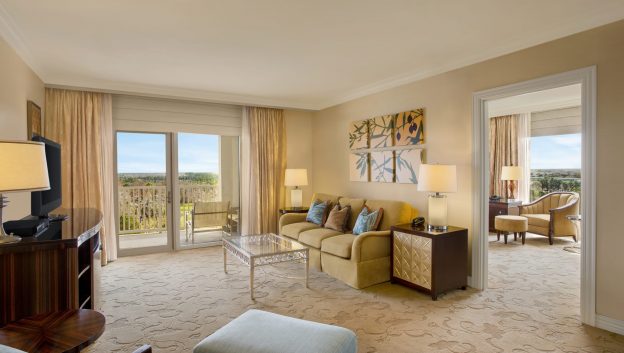 Here is what you get at Disney's Boardwalk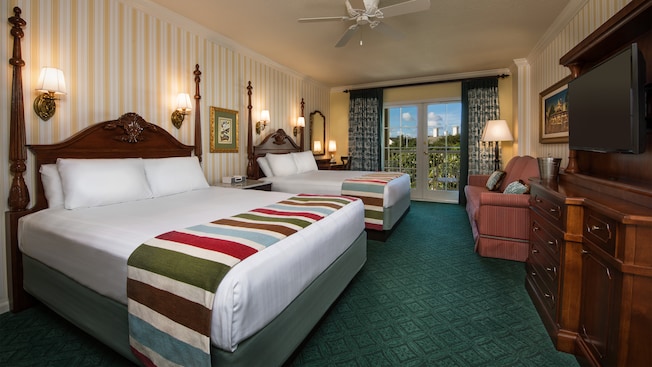 You also have plenty of reason to not eat every godawful expensive meal at the parks. Also, and you would think this would have occurred to someone. You have no reason at all, not to go to Harry Potter world at Universal Studios Orlando. Also, Sea World. In fact, you have ample motive and opportunity to do all kinds of things Off Property.
I am quite positive that Bob Chapek only got the job of CEO because Iger thought he could muscle him out and take over again.
Okay, I'm done here.