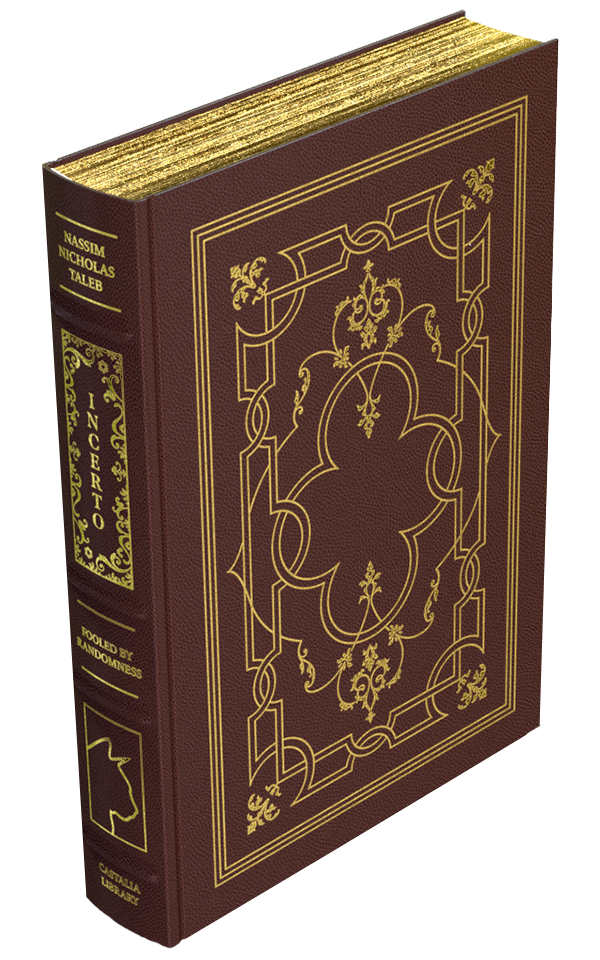 Fooled by Randomness Library edition
$150.00
Description
This is to purchase a deluxe Castalia Library edition of FOOLED BY RANDOMNESS by Nassim Nicholas Taleb. Please note that this is NOT part of the Library subscription, but subscribers can purchase additional copies at a subscription price by using their subscriber's discount.
FEATURES
Genuine Italian cowhide binding
22k gold spine
Gilded front cover
Gilded page edges
Archival-quality paper
Limited edition of 900
368 pages
Fooled by Randomness: The Hidden Role of Chance in Life and in the Markets is the word-of-mouth sensation that will change the way you think about business and the world. Nassim Nicholas Taleb–veteran trader, renowned risk expert, polymathic scholar, erudite raconteur, and New York Times bestselling author of The Black Swan–has written a modern classic that turns on its head what we believe about luck and skill. This book is about luck–or more precisely, about how we perceive and deal with luck in life and business. Set against the backdrop of the most conspicuous forum in which luck is mistaken for skill–the world of trading–Fooled by Randomness provides captivating insight into one of the least understood factors in all our lives. Writing in an entertaining narrative style, the author tackles major intellectual issues related to the underestimation of the influence of happenstance on our lives.