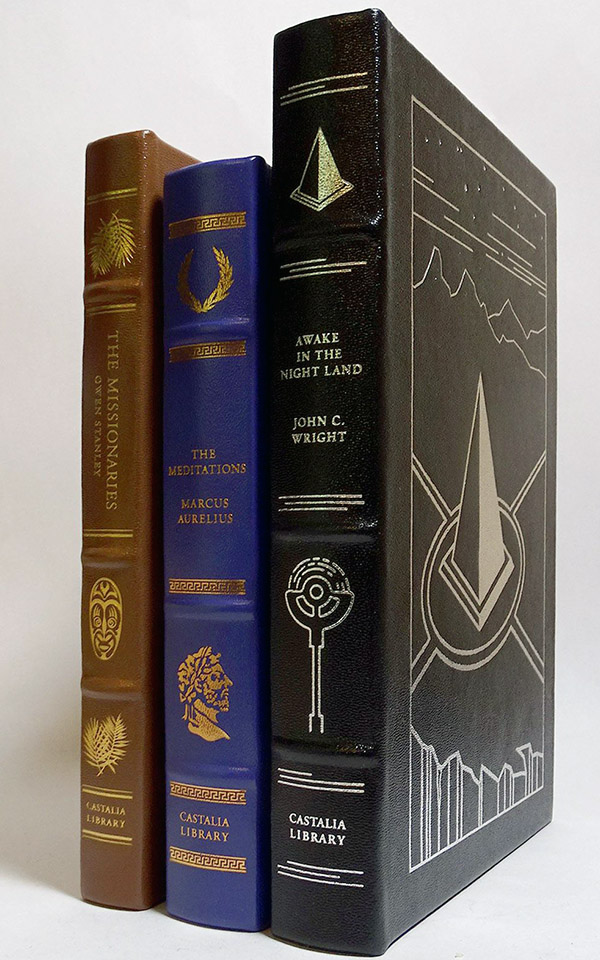 Castalia Library annual subscription
$900.00 / year
Description
This is for an annual subscription to the Castalia Library Book Club and receive a deluxe leatherbound book published by Castalia House every other month. Subscribers receive a $270 discount on the retail price of $900.
FEATURES
Genuine leather bindings
Gilded cover and spine titling
Gilded page edges
Genuine offset printing
Original interior layouts and artwork.
Archival-quality paper
First-rate fiction
Timeless classics of history, science, and philosophy
Shipping worldwide included
The current Library Book Club book (September-October, #6) is Lives, Vol. II by Plutarch.
CASTALIA LIBRARY SERIES
The Missionaries by Owen Stanley, limited edition of 500
The Meditations by Marcus Aurelius, limited edition of 650
Awake in the Night Land by John C. Wright, limited edition of 650
The Divine Comedy by Dante Alighieri, limited edition of 750
Lives, Vol. I by Plutarch, limited edition of 750
Lives, Vol. II by Plutarch, limited edition of 750
Summa Elvetica by Vox Day, (signed edition) limited edition tbd
Politics by Aristotle, limited edition tbd
Castalia Library subscribers are given the first opportunity to purchase the remaining copies at the subscription price, and also receive a discounted price on non-subscription limited editions.