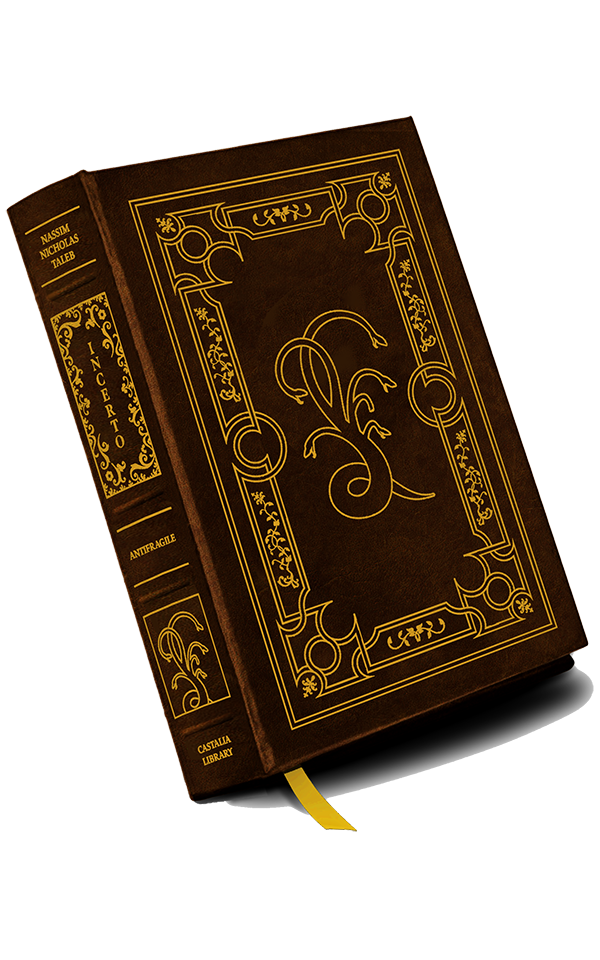 Antifragile Libraria edition
$500.00
Description
This is to purchase a deluxe Libraria Castalia edition of ANTIFRAGILE by Nassim Nicholas Taleb. Please note that Libraria subscribers can purchase additional copies using their subscriber discount.
FEATURES
Genuine Italian goatskin binding
22k gold spine
22k gold front and rear covers
Gilded page edges
Archival-quality paper
Limited edition of 100
544 pages
Antifragile: Things That Gain From Disorder is Taleb's definitive solution to the problem described in The Black Swan: how to gain from disorder and chaos while being protected from fragilities and adverse events. For what Taleb calls the "antifragile" is actually beyond the robust, because it benefits from shocks, uncertainty, and stressors, just as human bones get stronger when subjected to stress and tension. The antifragile needs disorder in order to survive and flourish. Extremely ambitious and multidisciplinary, Antifragile provides a blueprint for how to behave – and thrive – in a world we don't understand, and which is too uncertain for us to even try to understand and predict. Taleb's message is revolutionary: What is not antifragile will surely perish.