The Fall of the House of Abrams
The Dark Herald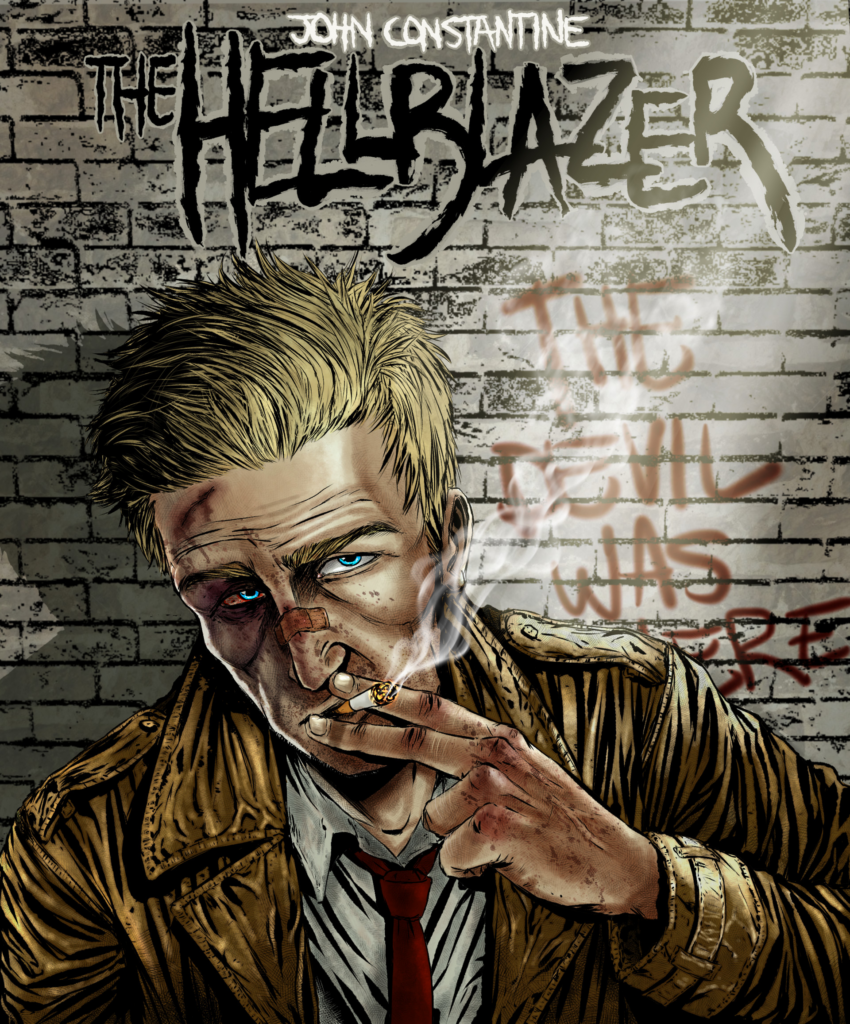 I am perhaps jumping the gun in predicting the downfall of Bad Robot and all who serve him. But even Hollywood can eventually accept the obvious. They may do it kicking and screaming, with a great gnashing of teeth but at the end of the day, money means more than anything else in Tinsel Town.
Why am I saying that Bad Reboot has a problem? Because the unthinkable has finally happened.
I'll elaborate.
John Constantine is returning to the big screen starring Keanu Reeves. This appears to be a sequel to the 2005 film that fans of the character indeed and truly hate. I get where you are coming from even though I far prefer Harry Dresden myself.
John Constantine (with long vowel I in 'tine') was first created by Allen Moore during his legendary run on Swamp Thing. Constantine's character was quickly established as a Brit from Liverpool complete with a Scouser accent that would have made the Beatles proud. He was modeled after Sting from the Police, with blonde hair, a tan trench coat, and a lit cigarette always in his mouth.
He finally got his own comic book with Hellblazer. His background quickly became set in stone.
Then it got unstuck when Warner Brothers decided to make a Hellblazer movie in 2005, starring Keanu Reeves who was nuclear hot off of the Matrix films. There was a fundamental problem with this iteration. With the best will in the world, Reeves was never going to be able to do a Liverpool accent. Maybe they could dye his hair, put him in a trench coat, and stick a cigarette in his mouth. But that would be self-defeating because Warner Brothers wanted the Keanu from their Matrix movies.
So, they went with surfer dude Constantine (pronounced with a 'teen'). And you know what? It wasn't bad. There was plenty to like about it but not if you were Constantine purest. They hated it with an unbridled passion. Not that it really mattered, Constantine pulled in $221 million against a budget of $75 million. The income breakdown has $74 million from the US market meaning it was marginally more profitable than Batman Begins.
However, they had some trouble getting the sequel off the ground and by 2008 it was a no-go. Dark Knight had pulled in a billion and Iron Man had grossed $600 million. Keanu Reeves himself had had a string of films that underperformed. Warner Brothers lost interest in a property that had only grossed $221 million.
We next saw a more traditional John Constantine on NBC, they got the hair, trench coat, and cigarette right but they missed on the accent. Since I know Matt Ryan can do a Liverpool accent, I'm positive it was the producer's instructions. They also retained the mispronunciation of the name. Still, it was a lot closer to the comic book character. Sadly, the show didn't last.
The only place they've gotten the entire character right was in the Audible version of Sandman.
Regardless, Ryan got transferred to the CW where he played the character on Legends of Tomorrow. Until recently (2020), when Constantine was abruptly written out of the show. Ryan stayed on in a newly created role to finish out his contract.
The reason that version of Constantine was deep-sixed was because the Destroyer of Worlds, JJ Abrams, had been signed by Ann Sarnoff to rework the DC universe. The view was that Abrams could now do for DC what he had done for Star Trek and Star Wars. No, I'm not kidding that was really the thinking behind hiring him
Abrams demanded a moratorium on all of the characters he was going to be using for his new DC Universe. Naturally, they were all going to be 25% different. He started his famous Black Superman project to be written by Ta-Nehisi Coates (I'm not joking about that either. It really happened). This was why Henry Cavil's contract to play Superman was not renewed.
Abrams also began work on his own race-swapped version of Constantine. Which is why Ryan got turfed off of Legends of Tomorrow. Although, he still voices the animated version.
It's also why Sandman had to use the Johanna Constantine character from the French Revolution rather than the Sting version.
This is why Keanu Reeves being hired to revive his Constantine character is such an unthinkable disaster for Bad Robot.
From a business perspective, this project is quite understandable. John Wick movies have moved Reeves back to the A-List. Hiring him to headline a Comicbook movie makes sense.
But it also means that JJ Abrams' moratorium on the DC characters he's working on, is officially shitcanned. A lot of Bad Reboot's success in Hollywood had to do with the perception of momentum. Nobody wanted to be the first to kill a Bad Robot production because it just wasn't done in Hollywood.
Of course, firing a useless slay queen Woke Feminist like Ann Sarnoff wasn't done either but David Zaslav did it.
According to Mikey Sutton at Geekosity, (who frankly has much better connections than I do), JJ is all kinds of pissed about this announcement.
Abrams has been pretending to be the new Spielberg for eighteen years. But unlike the original, the new and improved version can write and direct. Or at least that has been the legend he has been peddling since 2004 when Lost premiered.
In eighteen years, Spielberg went from a popcorn burner like Raiders of the Lost Ark to Saving Private Ryan. JJ Abrams, on the other hand, has gone from Lost to The Rise of Skywalker (his last film directorial credit). He is bluntly bad at his job. And has to have been living in terror of Hollywood waking up to it.
He has been a devotee of style over substance and has been very open about it. According to JJ if you think up a really cool scene, you don't have to justify it. Just include it. The Darklings are more than familiar with my rants about the Mystery Box. Although, the biggest mystery is how has Bad Robot gotten away with a prolonged history of hyper-expensive underperforming properties, for so long.
But it would appear that the morning sun has begun to glimmer over Tinsel Town. Secret Hideout's disastrous run with Star Trek combined with the death of Star Wars and topped off by the studio-breaking cataclysm that is the Rings of Power, appear to have finally woken up Hollywood.
It was going to happen eventually, but David Zaslav was the first to do it.
Zaslav has also given Abrams' Constantine TV show a hard pass for HBOmax. This does mean that Abrams is free to shop it around Hollywood.
Which leaves the intriguing question of, will someone actually buy it? Or will no one be interested in a JJ Abrams property?
Okay, I'm done here.