DC COMICS DROPPED FROM COMICON
The Dark Herald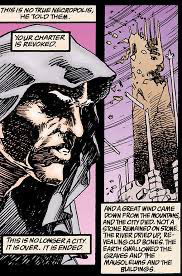 It is over. It is ended.
DC Comics will not have a booth at San Diego Comicon.
"(T)the company, headed by CEO David Zaslav, is making big changes to its approach to Comic-Con as its various divisions make their first appearances at the annual pop culture celebration in three years, due to the pandemic. For the first time, Warners, including DC, will have no presence on the convention floor, a move that breaks with decades of precedent. The company had one of the bigger presences on the floor, with movie and TV costumes on display. In some years, A-list stars such as the cast of Justice League or Watchmenappeared for signings."
Impossible as it is to believe, the company that literally invented the comic book will not be repped at San Diego Comicon this year. Yet Superman and Batman's parent company will not have a booth at Comicon this year.